Christ Lutheran Church loves to help people!
Here are some ways we have enjoyed doing that.
"GOD'S WORK, OUR HANDS" SUNDAY
Sunday, September 11, 2016, was a day of remembrance for the 15-year anniversary of the terrorist attacks on the United States. CLC had a special worship service that day to honor our local First Responders, and several representatives attended.
In appreciation, our congregation baked cookies and brownie treats for all of the Monticello area First Responders (pictured below). These treats were delivered throughout the following week.
CHRIST LUTHERAN JOY PROJECT
Many people visit nursing homes and senior living facilities around Christmas, but then visits become much less frequent. To bring smiles after the holidays, CLC goes to these facilities to sing, give cards, or play bingo. It's a great pick-me-up for all of us!
We enjoyed our most recent Joy Project after worship on March 15, 2016 when the CLC Sunday School and Choir heading to the Villas of Holly Brook in Monticello. Check out a video of the children singing "I Just Wanna Be a Sheep" on our CLC YouTube Channel!
SHOEMAN WATER PROJECT
From the Shoeman website: Shoeman Water Projects collects donated shoes – any kind, new or gently used – from schools, churches, businesses and shoe drives, exports the shoes to street vendors in places like Haiti, Kenya and South America and uses the funds from exporting for clean water programs in communities around the world. Funds generated from the export of shoes provide well drilling rigs, water purification systems, and hand pump repair. People who thirst receive fresh drinking water.
Christ Lutheran Church has sponsored shoe drives in Monticello for the last few years, and we have sent thousands of pairs of shoes to Shoeman, based in Fenton, MO (near St. Louis). It's a great opportunity for our church family and neighbors to clean out their closets for a good cause.
In August 2018, The Shoeman Water Project truck again came to Christ Lutheran Church to pick up shoes (pictured below). Many thanks to the members of Christ Lutheran and the community of Monticello for their shoe donations. Shoes will help people in struggling countries who have no shoes. Some shoes will be sold and the money used to build wells to access clean drinking water. Thank you for your donations.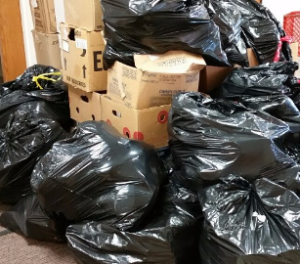 SEVERE WEATHER AWARENESS AND RESPONSE PROJECT
Any time is a great time to prepare for nasty weather!
Click here to download a handy Emergency Organizer document that we prepared to help you if a disaster happens. The Organizer includes a household information sheet, disaster kit checklist, pet information sheet, and divider sheets to keep everything neat in a folder.
Email or call the Christ Lutheran Churchoffice (217-762-5826) if you need a weather radio. We especially encourage you to contact us if you live in a mobile home, don't have a reliable storm shelter nearby, and/or live where you cannot hear tornado sirens clearly.
Our history with this ministry:
Weather Radio Distribution Campaign: We gave out 35 radios, free of charge, to Piatt County residents. We focused on people in especially vulnerable situations, such as mobile home parks.
Piatt County Pulls Together Supply Drive: We participated in a county-wide relief effort to deliver baby and children's supplies to Moore, Oklahoma, following a tornado in May 2013. We assembled 5 people, 2 vans, and many items graciously donated by our brothers and sisters in Piatt County, and drove to Oklahoma.
LUTHERAN WORLD RELIEF SCHOOL KITS PROJECT
Our Sunday School helps assemble school kits for children in need across the globe through Lutheran World Relief. We collect school supplies at church, and put them into simple backpacks sewn by several CLC members. Follow these links to help us give children what they need to succeed in school:
Official LWR School Kit Supply List